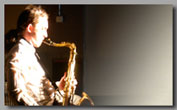 Online Saxophone
Lessons
* Gift Certificates Available *
About Online Lessons

Now you can learn to play saxophone online from from your own home or office. Online Saxophone lessons are conducted over the internet using Skype, iChat, or VSee depending on your computer. With online lessons we can share music on the screen, talk, and play freely. My online students progress as quickly as my in person students.
Feel free to look around this site and if you have any questions I'm here to answer them. You can call or email from the contact page.
Still not convinced? Try your first class for free. email ben@benbogart.com for more info.
About Ben
Ben studied Classical music at the University of California Santa Cruz, and jazz improvisation and arranging at Berklee College of Music. A professional Musician with more than 100 performances each year, Ben has been teaching saxophone Lessons Since 1995. He began teaching online saxophone lessons began in 2006 and they have been very popular ever since.
Find out more about Ben Bogart